Biography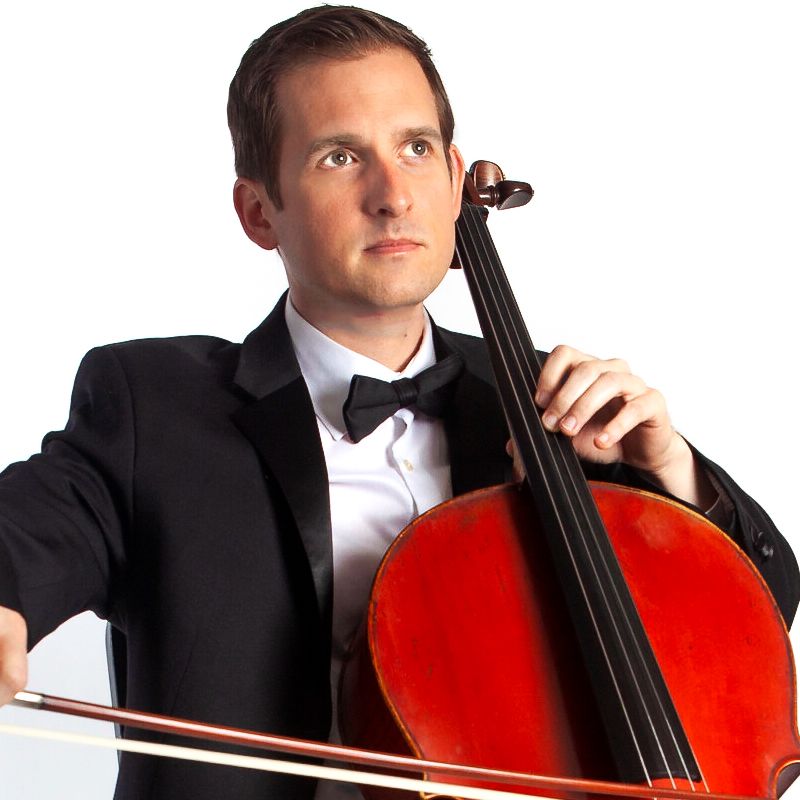 Douglas Harvey was born in San Antonio, Texas and currently resides in Austin, Texas. He is the principal cellist of the Austin Symphony Orchestra, and Austin Opera Orchestras as well as a chamber musician and soloist.  He has led a complete career as a cellist performing as soloist, cellist of the Artisan Quartet, Principal of the Austin Symphony, Opera and Ballet, touring/recording with the Grammy Award winning Conspirare Choir, and touring/recording with David Byrne of the Talking Heads for two international world tours.  He was featured prominently on Conspirare's Album, The Singing Guitar, in The Dawns Early Light by composer Kile Smith, and The Song That I Came to Sing by Craig Hella Johnson, which earned him and the entire group a Grammy Nomination for Best Choral Performance.
His first musical experiences were in the church children's choir and later on he was accepted to the San Antonio Boys Choir, singing in their inaugural season. He began playing the cello in the fourth grade in the Alamo Heights public school district string program. He studied in San Antonio with Annette DiGiosia, cellist with the San Antonio Symphony and at the age of thirteen with Paul Olefsky, professor emeritus at the University of Texas in Austin. His studies took him around the country to the major music summer schools including Interlochen, Greenwood, Meadowmount, Boston University Tanglewood Institute, Norfolk Chamber Music – Yale Summer School of Music, and others. He studied chamber music with the great Tokyo, Muir, Vermeer, Cavani, and Yale quartets, as well as great artists Erick Friedman, Ralph Kirshbaum, Andres Diaz, and others. At the age of seventeen, just as he was beginning his studies at the University of Texas , he won a job with the Austin Symphony where he would, five years later become their youngest principal cellist in history.
As principal cellist of the Austin Symphony, Harvey has been a featured soloist with the orchestra. In 2003 Harvey shared the stage as soloist with celebrated news anchor Hugh Downs, Peter Bay, and the Austin Symphony, in a performance of Dan Welcher's massive oratorio, "JFK: The Voice of Peace," for solo cello, narrator, symphony orchestra, and choir.  In 2010 he was awarded the Austin Critics Table Award for Outstanding Instrumentalist for his performance of Richard Strauss' Don Quixote with the Austin Symphony.  He gave the Texas premiere of the Concertino for Cello and String Orchestra by Irving Schlein with the Austin Symphony during the Hartman Concerts in the Park Series in 2007. In 2017 he was joined by Austin Symphony Concertmaster Jessica Mathaes and pianist, Alex Maynegre-Torra for a performance of Shade by David Lang for Violin, Cello, Piano and Orchestra. He has performed 20 different works for cello and orchestra including the great concertos by Dvořák, Elgar, Haydn, Lalo, Saint Saëns, Schumann, and Tchaikovsky as well as the Brahms Double Concerto, Beethoven Triple Concerto and Haydn's Sinfonia Concertante.
During the covid ban on large public gatherings, the orchestra and other ensembles went online where he performed (live on video) Rachmaninoff's Vocalise with composer/pianist, Kathryn Mishell for the Salon Concerts, Bach's second cello suite for the Victorial Bach Festival, and Haydn's Sinfonia Concertante as soloist with the Austin Symphony, Julianne Webner, oboe, William Lewis, bassoon, Jessica Mathaes, violin, and Peter Bay, conductor.  During the slow in person re-opening, he performed cello and piano recitals with pianist, Rick Rowley,  pianist, Toby Blumenthall and pianist, Anton Nel. He also perfomed solo recitals at Southwestern University in Georgetown, Macy's Department store for the Austin Symphony's Pop Up concerts, and on his front porch for his neighbors. 
In 2012 Douglas Harvey gave his Carnegie Hall Solo Debut - Presented by the Amatius Foundation,  with pianist, Eduard Laurel. They performed Bach-Busoni Chromatic Fantasy and Fugue, Beethoven Sonata in C Major, Debussy Sonata, Four Portraits by Virgil Thomson, Sonata No. 2 by Lowell Lieberman, Rhapsody for Cello and Piano by Kathryn Mishell, A Waltz for Paul by Dan Welcher, and Eternal by Kevin Puts.  Lieberman, Welcher and Mishell were all present for the performance.  
As a chamber musician, Douglas Harvey has been in demand in Austin, performing for many years with the Austin Chamber Music Center, The Chamber Soloists of Austin, the Salon Concert Series, and as cellist of the Artisan String Quartet, formerly the Austin String Quartet. The Artisan Quartet gave their Carnegie Hall Debut in March of 2012, following their cycle of the complete string quartets of Beethoven, performing works by Beethoven, Grieg, and Roberto Sierra. 
In 2016, Douglas performed and recorded a new work called Considering Matthew Shepard, by Grammy winning composer and conductor, Craig Hella Johnson, and Conspirare. He toured with the group performing the work as well as recording a nationally broadcast PBS Special, Considering Matthew Shepard.  The group in 2018 performed selections from the piece as well as other choral works at Matthew Shepard interment service at the Washington National Cathedral in Washington D.C.  He recorded a second album with Conspirare which was released in 2019, called The Hope of Loving, works by composer Jake Runestad. He is featured on and recieved a  Grammy nomination for the album, The Singing Guitar.
Douglas Harvey, as a member of the Tosca Strings, has twice toured through America and abroad (2002-2005) with David Byrne of Talking Heads fame. Live broadcasts from the tours have included, David Letterman (CBS), On the Record with Bob Costas (HBO), Later with Jools Holland, London BBC, and Live at the Union Chapel, London BBC DVD. The tour featured performances at Carnegie Hall, Town Hall, Concertgebouw, Royal Festival Hall, The Walt Disney Concert Hall, The Hollywood Bowl and many others and was named in the top-ten of live touring shows by Rolling Stones Magazine, and the number one live show from the Dallas Morning News. Harvey has also recorded and worked locally with Ray Benson (Beyond Time), David Byrne (Grown Backwards), Matt Morris (When Everything Breaks Open), Andrew Heller (Christmas Wonder, Places), Disney's (Merry Little Christmas), and others.
Douglas plays on the Grand Prize winning "Emperor" cello made c. 1860 in Paris by Gand Frères, commissioned by the Emperor Napoleon III for the Imperial Conservatory of Music.